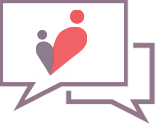 Our ACHA bloggers cover many topics relevant to the CHD community. 
I love chocolate. Dove Dark Chocolate Promises. Well, and M&M's, too. This should come as no surprise to anyone who knows me.
Any woman I know would agree that chocolate is wonderful—it reduces stress, renews energy, and may even be an aphrodisiac. Many women will also agree that chocolate may save lives—particularly those of our spouses. Thus, in our house, the tradition of chocolate for Valentine's Day has morphed to the giving of a bag of Dove Chocolate once every 28 days.
Disclaimer
The opinions expressed by ACHA bloggers and those providing comments on the ACHA Blog are theirs alone, and do not reflect the opinions of the Adult Congenital Heart Association or any employee thereof. ACHA is not responsible for the accuracy of any of the information supplied by the ACHA bloggers.
The contents of this blog are presented for informational purposes only, and should not be substituted for professional advice. Always consult your physicians with your questions and concerns.