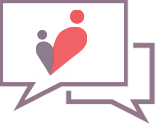 Our ACHA bloggers cover many topics relevant to the CHD community. 
As I have gotten older, the holiday season and its meaning for me has changed. It is no longer about the cool presents that I am going to get or the snow days to look forward to (working in a hospital means no snow days—ever). The holiday is much more about spending time with family, partaking in those special traditions, and enjoying that "Peace on Earth" feeling.
Along with a different meaning of the holidays comes different responsibilities. As an adult, the holiday season has taken on a life of its own, with much to do and a lot of stress associated with it. What am I getting for whom, did I remember all the items I need at the grocery store and why didn't I upload that holiday CD to my iPod last year!?
Disclaimer
The opinions expressed by ACHA bloggers and those providing comments on the ACHA Blog are theirs alone, and do not reflect the opinions of the Adult Congenital Heart Association or any employee thereof. ACHA is not responsible for the accuracy of any of the information supplied by the ACHA bloggers.
The contents of this blog are presented for informational purposes only, and should not be substituted for professional advice. Always consult your physicians with your questions and concerns.