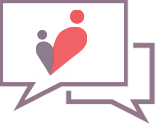 Our ACHA bloggers cover many topics relevant to the CHD community. 
On behalf of ACHA, and especially all of our ACHA future bloggers, I want to welcome you to our new ACHA Blog! Thank you for visiting, and I'm looking forward to you becoming regular readers to see all that we have to offer; we have quite a few bloggers on board who will post about many topics relevant to the CHD community.
Disclaimer
The opinions expressed by ACHA bloggers and those providing comments on the ACHA Blog are theirs alone, and do not reflect the opinions of the Adult Congenital Heart Association or any employee thereof. ACHA is not responsible for the accuracy of any of the information supplied by the ACHA bloggers.
The contents of this blog are presented for informational purposes only, and should not be substituted for professional advice. Always consult your physicians with your questions and concerns.