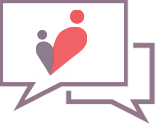 Our ACHA bloggers cover many topics relevant to the CHD community. 
I am a neonatal nurse and the daughter of a man affected by transposition of the great arteries (TGA). Growing up, I never saw or knew the effects of my father's heart condition. Now, as a nurse working with newborns, I see firsthand what my father and his family went through. This is the story of my father, in his own words, that describes what he's been through since birth:
Disclaimer
The opinions expressed by ACHA bloggers and those providing comments on the ACHA Blog are theirs alone, and do not reflect the opinions of the Adult Congenital Heart Association or any employee thereof. ACHA is not responsible for the accuracy of any of the information supplied by the ACHA bloggers.
The contents of this blog are presented for informational purposes only, and should not be substituted for professional advice. Always consult your physicians with your questions and concerns.