For the second year in a row, we are proud to announce the annual ACHA Volunteer Award recipients! Nominees in the following four categories were submitted by ACHA staff and board members: Fundraiser of the Year, Rookie of the Year, Influencer of the Year, and Organizational Partner of the Year. Once all nominees were submitted, the ACHA Emeritus Board reviewed the nominations and chose the winner for each category.
Congratulations to all of the winners and nominees!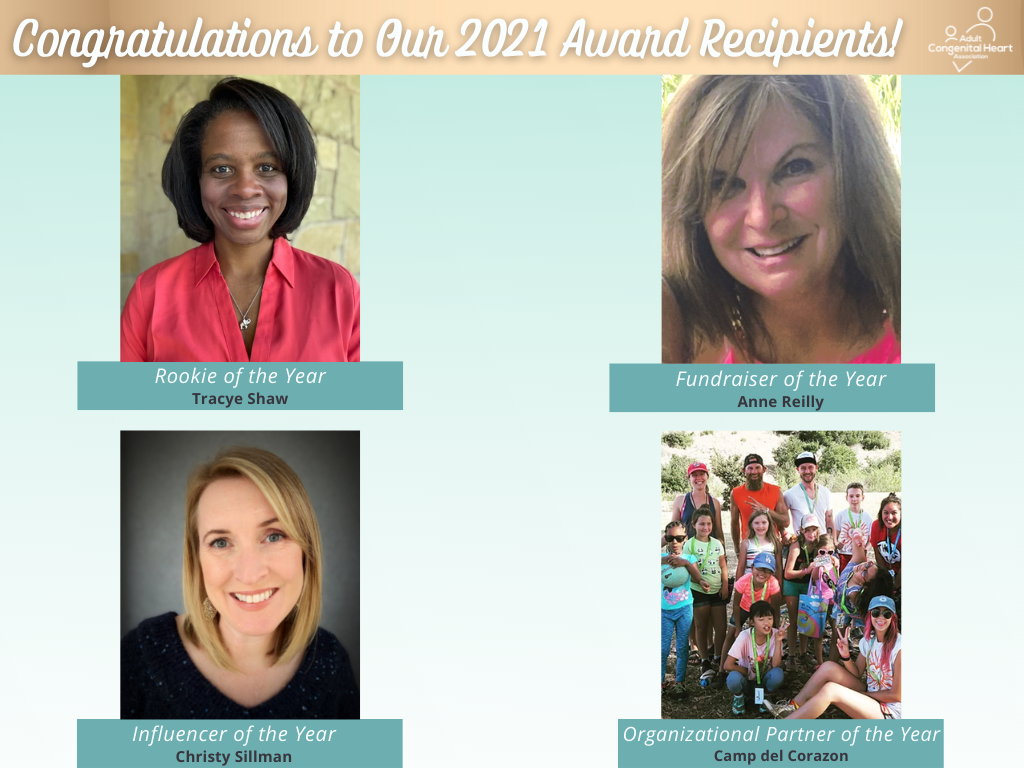 Fundraiser of the Year Award: Anne Reilly
This award is presented to a member of the CHD community who has demonstrated exceptional commitment and success in generating revenue for ACHA.
Anne served as the 2021 Hartford Walk Chair, a brand new walk site for ACHA. Anne was not shy to tap into her personal network and encourage the walk committee to drive registration and awareness. Hartford had 106 participants register for the walk, which was one of the highest amongst all walk sites! If there was a task, Anne used her network and made it happen. For example, Anne was able to secure the site and get the management company to promote the walk in all storefront windows. Anne also secured an emcee from a local news station and was able to secure the Deputy Mayor of West Hartford to read a proclamation during the virtual opening ceremony. Anne and her husband Brian generously offered to match all donations dollar for dollar up to $8,000 to increase fundraising for the walk. Hartford's budgeted goal was set at $25,000 and because of Anne's hard work and passion, the site surpassed its goal by raising $27,320. Anne continues to have new and creative ideas on how we can improve our walk campaign. ACHA has no doubt she will make the next Hartford walk even bigger and better.
Rookie of the Year Award: Tracye Shaw
This award is presented to a member of the CHD community who has demonstrated exceptional enthusiasm and commitment to ACHA for their first time on the local, regional or national level in the past calendar year.
While Tracye Shaw is no stranger to ACHA, over the past few months, she has become actively engaged in sharing her story. Tracye trained to run the BMW Dallas Half Marathon on December 10 and used this event to raise funds for ACHA Your Way. Due to a recent injury, Tracye is now postponing her half marathon to 2022, and will continue working toward her fundraising goal as she recovers. She has now raised more than $2,800 for our mission. Tracye has allowed us to share her training journey as well as her personal CHD story with our community on our social media networks and in our eblasts—including an ACHA Your Way email in September and our Heart Happenings Newsletter in October. Tracye has exemplified openness, eloquence, and enthusiasm throughout the entire process, and we are grateful for the strong relationship we're building.
Influencer of the Year Award: Christy Sillman, NP
This award is presented to a member of CHD community who has gone above and beyond to spread the word about CHD and the need for lifelong care—an outreach aficionado. Examples of award-worthy and commendable actions are being a go-to and trusted source of information on social media networks, tangibly increasing public awareness in your local community, or bringing about positive change through legislative or patient advocacy.
Christy, an adult with CHD and an ACHD medical provider, was ACHA's very first blogger (and most frequent, with 43 posts under her belt). More than 10 years later, she continues to use that platform, along with social networks, to promote ACHA's mission and the importance of ACHD care. Christy is active on social media (especially Facebook), where she has large platforms and goes out of her way to advocate for ACHA in many ways. She also often provides incredibly relevant comments on our networks and on other pages. Her dedication to clarifying the intent of ACHA and our mission as an unbiased member, patient, and provider in the comments is much appreciated. Very early this year, Christy also contributed a blog for ACHA to address the importance of the COVID-19 vaccine, which was a crucial topic at the time. Christy also uses social platforms to fundraise for ACHA, and has done so multiple times in the recent past, such as for this year's virtual Northern CA Walk for 1 in 100. Most notable, though, may be her June 2020 ACHA Your Way campaign, where her followers could place a vote for her to complete 1 of 5 challenges in return for a donation. The winner was a Sillman family lip sync battle, which was enjoyed by many online. Christy is also a dedicated advocate and has traveled from California to Washington, D.C, to meet with her legislators on the Hill at past ACHA events. Finally, Christy is a trusted resource in the CHD community and has presented at both ACHA conferences and webinars. We are thrilled that she will be joining us as honorary co-chair at our next National Conference, which has already required much work and dedication through a date change and the addition of the virtual symposium in July 2021.
Organizational Partner of the Year Award: Camp del Corazon
This award is presented to a business, corporation, institution or fellow non-profit entity that has joined forces with ACHA and fully embraced our mission of improving and extending the lives of those born with CHD.
Founded in 1995 as a summer camp for children with congenital heart disease, Camp del Corazon (CdC) provides 300+ CHD campers each year with a summer camp experience on Catalina Island for free. In addition, CdC has year-round engagement with their CHD community through a variety of awareness activities, including the Happy Heart Festival (in February in conjunction with Edwards Lifesciences) and the Family Fun Festival (every October). CdC also supports a growing community of young adults with CHD as campers "age-out" of camp through their P.A.C.E. program: Progressive Adult Cardiac Experience. The P.A.C.E. program has year-round social events and culminates in a Memorial Day retreat, of which ACHA has been involved with the past three years. This past year, Camp del Corazon has prioritized its partnership with ACHA to support their work in transition. By inviting ACHA staff member Emily Earhart to serve as an advisor for their P.A.C.E. program, CdC has prioritized the collaboration with ACHA as well as the importance of transition education among the CHD community. In addition to facilitating workshops on transition with ACHA and driving its community to become members of ACHA, the P.A.C.E. program is an engaged follower of ACHA on social media and has formed a team for the Southern California Walk for 1 in 100. The collaborative work on transition education between Camp del Corazon and ACHA is a model of how we can work with community partners and other non-profits in the CHD community to broaden and increase the impact of our mission.